With its bustling music scene, booming economy, unique neighborhoods, and laid-back vibe, Austin consistently ranks as
one of the best U.S. cities to live in
. Considering Austin's outgoing vibe and passion for preserving what makes things unique, it's no wonder a glimpse at downtown Austin real estate reveals architectural styles that span the chronology of the city's development, giving it the distinctive style it boasts today.
Iconic architectural styles you'll discover in Austin
Spanish and Mediterranean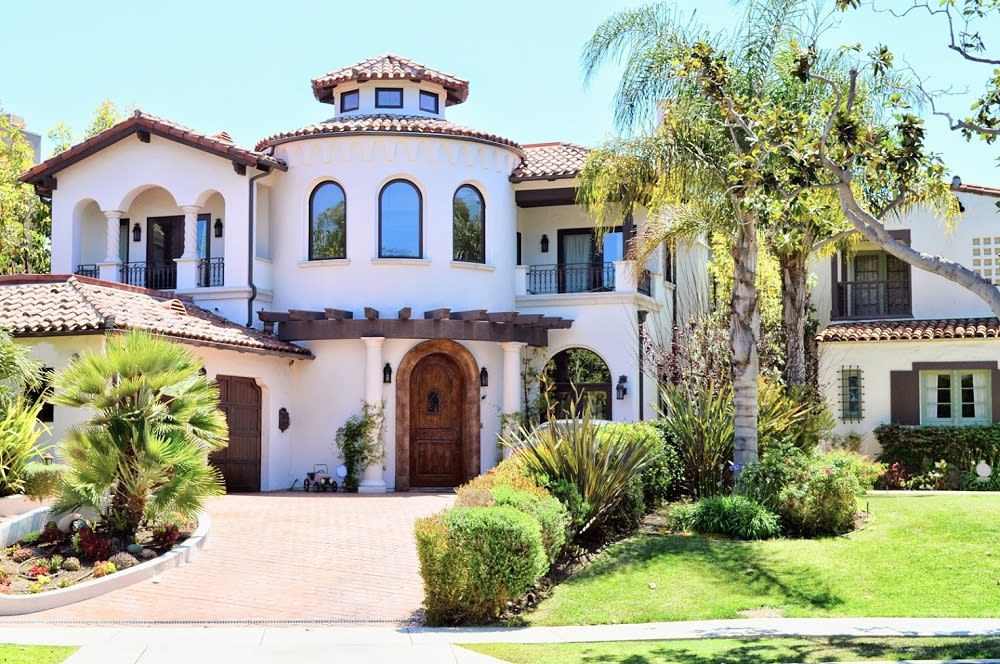 Even before Austin was established, Spanish settlers built missions here, and the influence of this particular architectural style can be seen in many of Austin's present-day homes and downtown buildings. Elaborate stonework, stucco detailing, expansive arches, and dramatic verandas welcome visitors to these homes.
Naturally, Spanish and Mediterranean influences emphasize beautiful and livable outdoor spaces, with fountains, pools, peaceful courtyards, and seamless transitions between indoor and outdoor spaces. Austin's consistently pleasant weather makes these outdoor living spaces particularly appealing to modern-day home buyers.
Victorian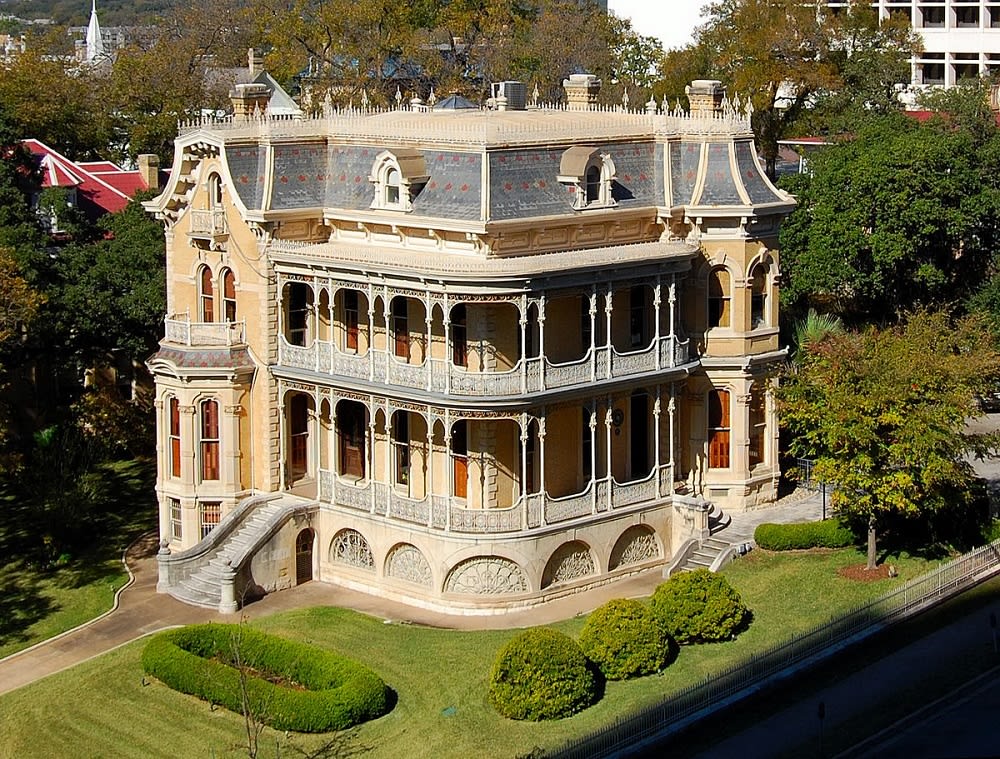 From the 1850s on, Victorian architecture dominated home styles across America. Delicate fretwork or "gingerbread" details, spindled porches, and tower rooms are hallmarks of these beautiful homes. Downtown Austin real estate features many fine examples of Victorian homes, including Bremond Block's historic district. Built between 1850 and 1910, the block's original homes represent some of Texas's best-preserved upper-class Victorian homes.
Queen Anne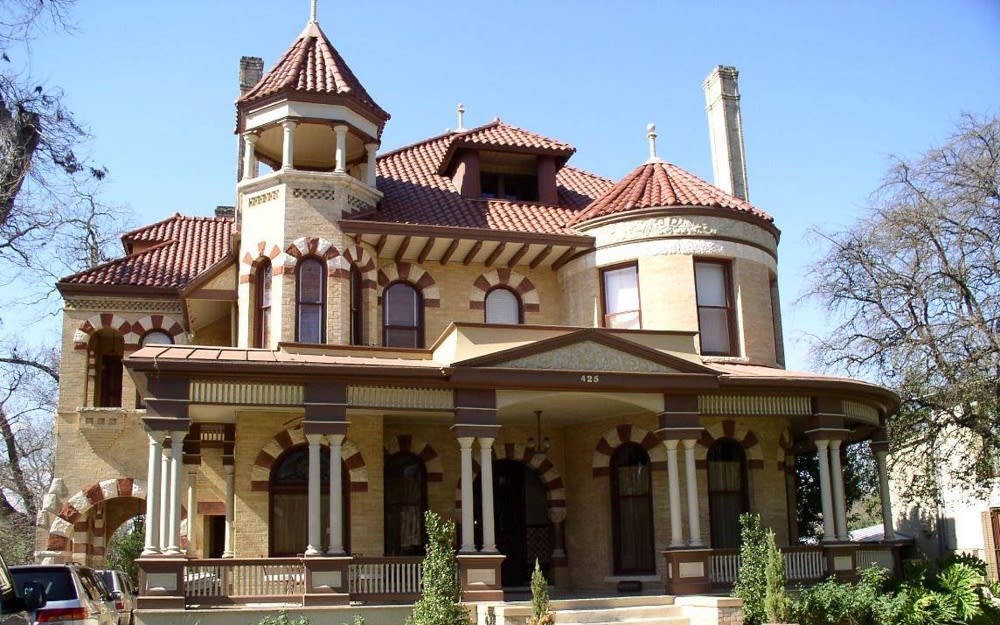 Technically considered a subset of the Victorian style, Queen Anne homes typically feature steeply gabled asymmetrical facades and elegant covered porches with large bay windows and unique patterns and materials. Geometric patterns can be seen in sidings, rooftops, chimneys, and brickwork.
Bungalow
The ubiquitous bungalow gained popularity during the residential building boom spanning from 1910 to the 1940s. Inexpensive and easily built, these modest residences directly departed from the ornate Victorian homes of the prior era, focusing more on eternally livable spaces. Comfortable deep-set porches and open living areas make these charming homes a popular choice for modern families.
American Craftsman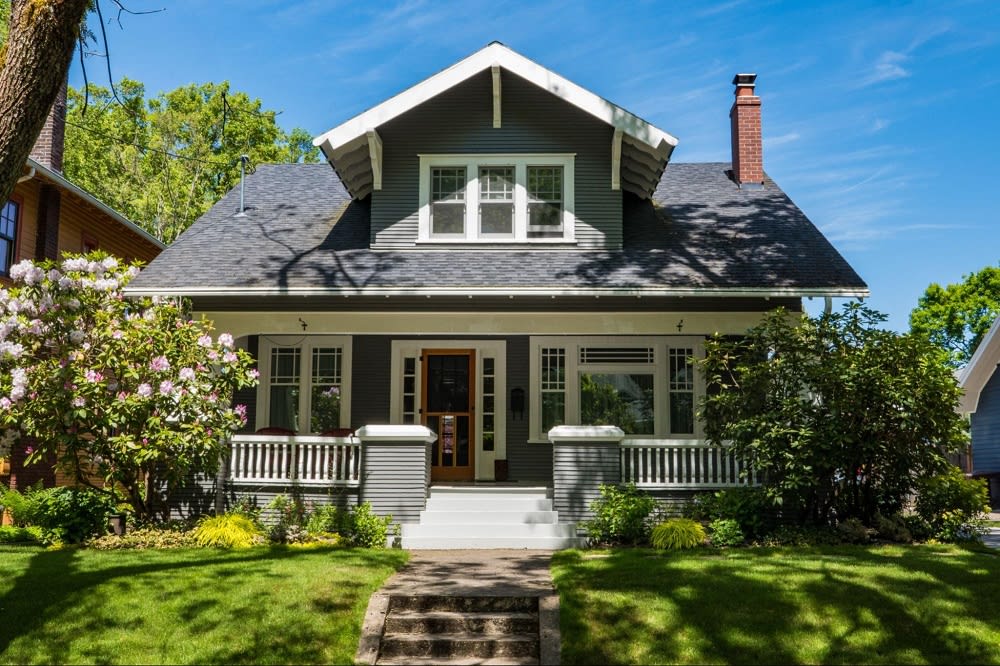 Like the popular bungalow style, form and function came together with the advent of the American Craftsman design. Its pragmatic approach featured clean lines and simplified layouts, and the burgeoning American middle class embraced these practical yet comfortable homes. They leave out fussy Victorian elements but still reflect the creative talents of the craftsmen who built them.
American Tudor Revival
Another popular turn-of-the-century style, Tudor homes are a mainstay in many of Austin's prewar neighborhoods like Travis Heights, Hancock, and Hyde Park's Shadow Lawn Historic District. Steep rooflines and hipped gables predominate Austin's Tudor homes. Arched entryways, ornate chimneys or brickwork, and half-timbered facades give these distinctive homes their charming curb appeal.
Art Deco and Art Moderne
Downtown Austin real estate features several excellent examples of Art Deco architecture.
Art Deco architecture embraces geometric decorative elements, natural patterns, and clean, modern lines. Art Deco designs draw the eye upwards with glamorous towers and surprising details.
Dutch Colonial
Heavily influenced by German settlers, this American architectural style gained popularity through the 1930s. Dutch Colonial homes typically feature broad rooflines and eaves that extend over deep porches. Chimneys often flank two sides of the home, while casement windows and Dutch double doors lend a quaint, homey feel.
Ranch
It's hard to think of Texas without imagining low-slung rambling ranch homes surrounded by acres of golden prairies. This practical yet stylish architectural style boomed in the 1950s and 1960s and is prevalent today in modern homes. The style's easy-living features typically include single-story constructions, attached garages, sliding doors, large picture windows, elegant patios, and spaces for entertaining guests.
Split-Level
Following the ranch-style boom, architects introduced a new concept in the split-level home. With a focus on modern living, split-level homes offer multi-level living that separates sleeping quarters from socializing areas, often including dens or TV rooms to accommodate that newly emerging technology as a centerpiece of the American home.
Hill Country Contemporary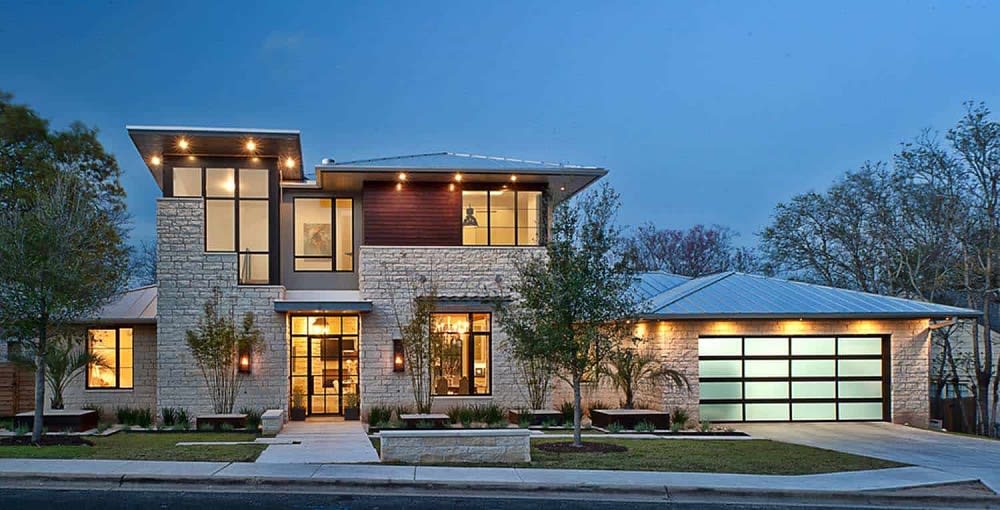 Photo courtesy of Kindesign
This uniquely Texan architectural style was born from the geology surrounding Austin and the nearby hill country. Limestone cliffs and rolling hills inspired home designs that naturally fit this landscape. Hill Country Contemporary is heavily influenced by the Germanic style of architecture and its practical use of local materials and functional spaces.
Timber and limestone provide the signature materials in Hill Country Contemporary's exteriors, fireplaces, timbered ceilings, and wood floors. Ever practical, repurposing existing elements of the surrounding natural setting is consistent with today's Hill Country home designs, which often include materials gleaned from the building site. Other definitive features of Texas Hill Country Contemporary include:
Use of white limestone as a building and accent material
Timber construction and interior wood accents
Gabled metal roofs
Functional outbuildings
Airy interior spaces
Dark wood floors
Modern and Contemporary
Recent booms in downtown Austin real estate have given birth to many contemporary and modern home designs. These cleverly designed homes maximize space and comfortable living while incorporating unique materials emphasizing green living and energy efficiency. Form and function blend perfectly to benefit those who call these modern marvels home.
Ready to invest in Austin real estate?
Whether you are looking for a quaint bungalow or an elegant modern mansion, Austin boasts many choices for classic architectural gems. When you are ready to find out more, an experienced real estate professional like Nina Seely of Nina Seely Real Estate can help. Nina Seely knows the best properties and neighborhoods, and she can guide you in navigating the Austin real estate market.